USA Wealth Partners has a board of advisors that together possess more than 200 years of experience in various industries. They have real world knowledge of cutting edge strategies that keep our clients informed as to what does and does NOT work in today's market.
We match buyers with investment opportunities and assist them every step of the way. You can be successful with investing even with no prior experience using USA Wealth Partners as your guide.
Now is also the time to diversify and create consistent streams of income through stable cash flowing investments in solid or emerging markets that are secured by tangible Real Estate assets and others Direct Investments. You can partner with the experts and safely profit with our help.
For further details regarding each member of our Advisory Board, please reference each Advisor's name on the right side of this page.
For more information about USA Wealth Partners, please click here

Martin talking with financial expert,
Paul Bauer, Senior Research Economist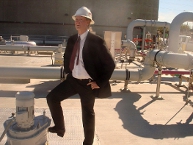 Harvey at his completed project,
Henderson Reclamation District Treatment Plant